Booking for 2023!
We are located only about 12 minutes west of the Village at Pigeon Lake and 6 minutes east of Twin Lakes, so only a short drive if lake activities are what interest you. You can cook your meals in the privacy of your own cabin or visit one of the local restaurants in the area. Click here for the activities page.
We havesome unique rustic cabins, each with its own special features. View them by clicking here
We, Allan and Åsa Groeneveld are the owners of the ranch and together with our family and a couple of employees we run the ranch consisting of about 300 cows, 12 horses, and some mini donkeys, goats, sheep and of course working dogs. 
Allan has "cowboyed" his whole life and worked in a provincial grazing reserve for 15 years. We also run a custom grazing operation that for many years consisted of 3000 yearlings grazed on large private pastures.
Åsa is originally from Sweden and before ranching  she trained and competed with dogs at national level. Åsa studied Agriculture at the Swedish University of Agricultural Sciences and also at the U of A here in Alberta. She has worked with  research, as a veterinary assistant and as a riding instructor. We pride ourselves in great stockmanship and train our own horses and dogs. We actively participate in local rodeos and jackpots up to the provincial level. We can give lessons and clinics in for example roping and horsemanship. We are also proud supporters of the 4H community. Allan has been a 4H beef leader for over 25 years.
After ranching intensively for many years we have decided to open up our beautiful ranch to a few guests at a time. You can come and rent a cabin, you can come to visit our western town or even elope and secretly get married in our mini church. 🙂 We will allow children (and adults) to meet some of our animals, but these visits need to be scheduled ahead of time and supervised as a farm can be a dangerous place if you are not familiar with it.
We offer trail rides and mini-clinics. You can bring a horse of your own or you can use ours. You can stay in a cabin or your trailer and your horse can stay in our barn. Please phone ahead for any such bookings.
Last but not least:
If you are renting a cabin but do not have a specialty booking with us – please respect and stay outside of the boundaries of the working ranch for your own safety.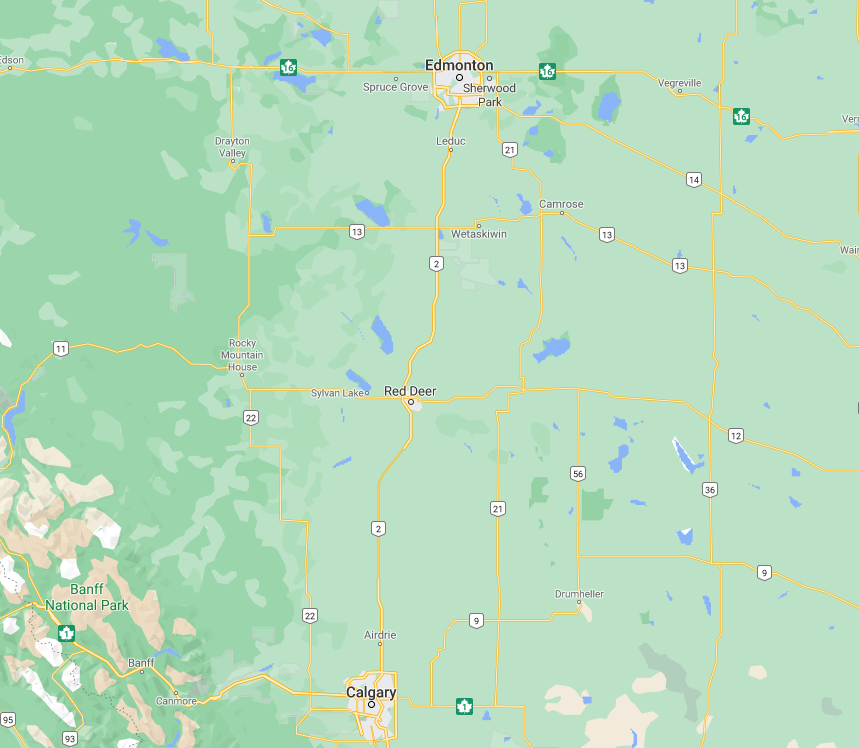 Bear Creek Cabins is situated in central Alberta. Only 15 minutes from Pigeon Lake!
Take a look at this interactive map to see driving times from different points of interest.
February 1, 2021
First Bookings Are Available
Morbi aliquet condimentum dui. In convallis ut ligula eu facilisis. Vestibulum hendrerit pellentesque viverra. Praesent efficitur scelerisque odio, vel vehicula odio tristique
March 1, 2020
Cabin Renos Completed
Morbi aliquet condimentum dui. In convallis ut ligula eu facilisis. Vestibulum hendrerit pellentesque viverra. Praesent efficitur scelerisque odio, vel vehicula odio tristique
November 1, 2019
We Purchased Our First Cabins
Morbi aliquet condimentum dui. In convallis ut ligula eu facilisis. Vestibulum hendrerit pellentesque viverra. Praesent efficitur scelerisque odio, vel vehicula odio tristique
May 1, 2019
We Broke Ground
Morbi aliquet condimentum dui. In convallis ut ligula eu facilisis. Vestibulum hendrerit pellentesque viverra. Praesent efficitur scelerisque odio, vel vehicula odio tristique
January 1, 2019
We Had An Idea
Morbi aliquet condimentum dui. In convallis ut ligula eu facilisis. Vestibulum hendrerit pellentesque viverra. Praesent efficitur scelerisque odio, vel vehicula odio tristique